SALT LAKE CITY — "Mr. Peabody & Sherman" will be hitting the silver screen this weekend, and early reviews suggest it will be a win for family-friendly moviegoers.
If Dreamworks is able to translate warm reviews into revenue, there's a good chance studios will be on the lookout for another beloved children's cartoon to upgrade, and like always, we have some suggestions.
So, Hollywood, if you're in the market, here are five Saturday morning or after-school cartoons we believe are ready for their movie makeover.
Animaniacs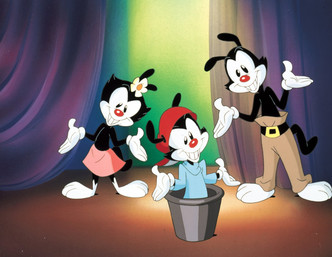 Because "Animaniacs" worked as a series of vignettes and employed several mini-casts, it stands to reason that a full-blown movie might be difficult to pull off.
The Warner Brothers and Sister have flirted with cinematic adventures over the years, including the theatrical short "I'm Mad," which was shown before Don Bluth's "Thumbelina," and the straight-to-video "Wakko's Wish." Both of these efforts were a lot of fun, but also stood as a reminder that 90 minutes might be too much for the adorable siblings.
But don't let that slow you down, WB. Let characters like Pinky and the Brain or the Goodfeathers lead the charge in your "Animaniacs" motion picture. In fact, remember one of your best episodes, "Sir Yaksalot?" Flip your protagonists and villains in that episode and you have your 90 minutes. You're welcome.
Mighty Mouse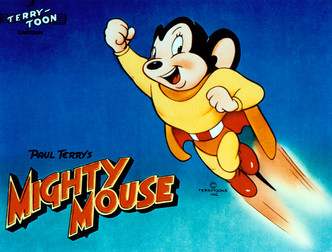 Is it possible that "Mighty Mouse" has yet to star in a big-screen adventure? That doesn't seem right, does it?
The superheroic rodent is so obviously ready for his close-up that he originally didn't make the list because well, he was too obvious.
I'm not the only one who thinks so, by the way. It turns out Paramount and Nickelodeon have been considering the mouse ever since their successful go at "Alvin and the Chipmunks." We can argue the definition of the word "successful" another time, but the point is, this tiny little dollop of power may be next in line to save the day.
The Tick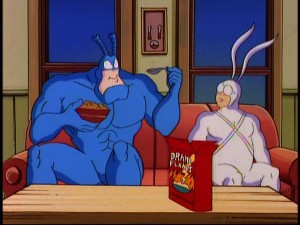 Did anyone watch this little masterpiece of a Saturday morning cartoon? I'm in no way referring to the less-than-stellar-live-action series starring Patrick Warburton, but instead the 1994 animated adaptation lead by voiceover veteran Townsend Coleman.
The three-season series did a great job of capturing the source comic's wit and style, and a CG makeover might be exactly what the big guy needs to finally find his mainstream audience. I mean, just think of how shiny that spoon would be as the Tick contemplated his catchphrase.
Also, it's about time the superhero genre stopped taking itself so seriously. Making "The Tick" into a full-length film is a win for everyone.
Jem and the Holograms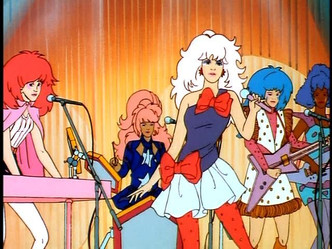 The world is ready for a Jem movie, isn't it? With so many Disney and Nickelodeon shows being about the secret lives of rock-singing icons, Jem seems like the perfect excuse to get moms and daughters together for an afternoon movie date.
Brought to us from the same team that gave us "G.I Joe" and "Transformers," Jem and her holographic earrings are probably being discussed as a movie franchise somewhere, and rightfully so. Once you throw in the Misfits, The Stingers and the power of synergy, I don't know how this movie doesn't become the next big thing.
Bringing back pink hair in and of itself would be favor to everyone.
Silverhawks
You thought I was going to say "Thundercats" didn't you?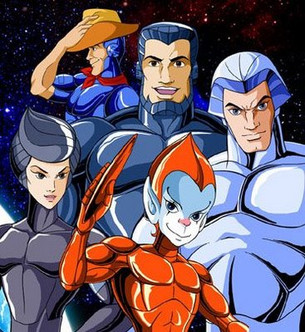 I admit it, the "Thundercats" were rad, they have a bigger following and their logo was cooler. But ask yourself, with no nostalgic attachment, would your kids rather watch flying metallic heroes battling it out in deep space, or alien cat-humans with names like Lion-O and Panthro?
It seemed like an obvious choice in my head, but now that I've written it out, they both seem pretty amazing.
Forget what I've said up until now, choice number five is actually a "Thundercats" "Silverhawks" cross-over film. Mon*Star escapes Penal Planet 10 and sneaks off to Thundera (where of course he totally fits in) to work on some master mob-boss plan. When it turns out Cheetara isn't fast enough for his evil, it takes the power of both teams to stop Mon*Star's plan and save Cheetara, Thundera, and of course … Earth.
Read more at http://www.ksl.com/?nid=1205&sid=28932263#dvDxCh0CFgVp7Rl6.99